Weekly Newsletter – What's Trending!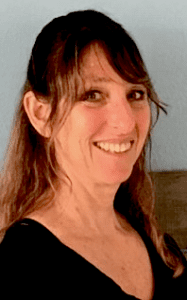 JFS was honored to have the opportunity to participate in and co-present for the 5th Annual Aging Positively Conference coordinated by Desert AIDS Project, Borrego Health, Eisenhower Health, HARP-PS, The Center, PALS and Gay Desert Guide and JFS. Thanks to improved treatments, individuals with HIV are living longer and addressing issues of aging. This event addresses some of those issues.
Julie Hirsh, JFS, Director or Community Outreach and Richard Bass, PALS (Planning Ahead for LGBTQ Seniors) presented October 17 on the topic of "Care About Care, All You Want To Know and More." Julie and Richard shared insights on how to start planning long-term care. "Even though we were not in the same room together, the LIVE Streaming event offered a safe space for participants to share their energy, thoughts, and questions. It was such an honor to be invited to co-present at the conference," said Hirsh.
The Aging Positively event committee is already in preplanning for next year's event on September 18, 2021. We hope to see you there!


Let's Do Lunch! Program
is Needed More Than Ever!
Even though participants are not currently able to meet in person, JFS continues to check-in on a regular basis to all the Let's Do Lunch! (senior social activity program) participants.
While making a call to Tim last week to get his lunch order to be delivered, he shared that he is very grateful for all the calls and outreach that JFS has provided over the past seven months. Tim felt that JFS has gone above and beyond with the lunch deliveries, which has made a big impact on his life, during these isolating and challenging times.
JFS would like to send a big shout out to all our incredible volunteers who share their time making calls, delivering food, and offering friendship to all of our clients who need our help more than ever.

CLICK PHOTO TO WATCH YOUTUBE COMMERCIAL!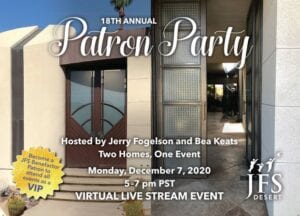 Join us Monday, December 7 at 5:00 pm for the 18th Annual Patron Party, an all-new LIVE Stream event. This year's party will be hosted by Jerry Fogelson and Bea Keats who will give virtual tours of their two spectacular homes along with the engaging 7-time Emmy® Award and 7-time Cable ACE® Award winner Roy Firestone as Emcee for the evening. Our generous Patrons help to provide the essential support allowing JFS to fund programs offering assistance to those most vulnerable in our Valley.
It's easy to become a Patron at various levels, contact Cheryl Scarlett by phone or e-mail at 760-325-4088 ext. 107, [email protected]
Find additional Patron Party information on the JFS website www.JFSDesert.org.

Volunteer Voices- Deborah Stolzoff
Deborah "Debi" Stolzoff has shared her time very generously with JFS for over 3 years and in that time, Debi has been an integral part of multiple departments.
With a background and long-standing career in accounting, Debi has been recruited by the JFS Finance Department where she spends every Monday with the team.  When the coordinator of volunteer services put out a call to action for assistance at the reopened JFS office on July 1, after the physical closure from COVID-19. Debi was the first to respond to the call and has been serving as Lobby Attendant and Front Office Assistant on Thursdays ever since.
Debi started her tenure with JFS as a Let's Do Lunch! Program host at the Joslyn Center site and was quickly promoted to Let's Do Lunch! Lead where she orchestrates day-of programming. She hosts between 25-30 attendees at the bi-weekly senior social activity event (currently on hiatus due to the pandemic in-person gathering restrictions).
Debi is always eager to step in and offer her time and support for any JFS special programming from the holiday meal delivery to Café Europa members to creating spreadsheets for the case management team.
Debi's kind, caring and compassionate demeanor is evident and witnessed through her interactions with clients. Debi's zest for healthy living is exhibited by a daily commitment to exercise and she is often found engaging in her daily workout.
JFS is honored and grateful for Debi's service and support which has enriched both the lives of our clients and team members.  Thank you Debi for all your hard work and dedication.

In-Person and Telehealth
Counseling for the Entire Community!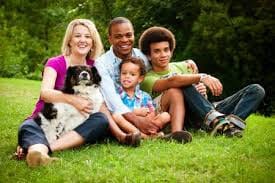 Make an appointment for in-person counseling or if you know someone who needs counseling or financial assistance, please don't hesitate to contact us at [email protected] or 760-325-4088.
To set up counseling for new clients:  760-325-4088 ext. 121   [email protected]
To change appointments for existing clients 760-325-4088 ext. 0  [email protected]  
For emergency assistance  760-325-4088 ext. 250    [email protected] 

Case Management
Our experienced case managers assist in exploring resources. They assess clients' eligibility for services and programs and can help facilitate the application process to obtain benefits and support. Our case managers are a resource for the Coachella Valley, providing emergency financial assistance to prevent homelessness. JFS also works with local and county organizations to advocate for the rights of seniors in the Valley. The JFS case management team takes a holistic service approach, collaborating with internal departments to ensure clients' needs are addressed. We are dedicated to making sure that mental health and basic needs issues stay front and center for our Valley citizens.
If you're Jewish, you'll first be offered information about the Jewish Federation of the Desert's Tzedakah Fund, and interested persons will be provided with an application and connected to the Federation directly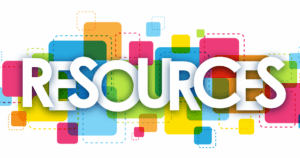 Visit the JFS Resource page on the website, which provides valuable information that can steer you toward the specific help you need whether it is Emergency Housing, Food Assistance, Crisis Hotlines and more!

"It Begins With Us"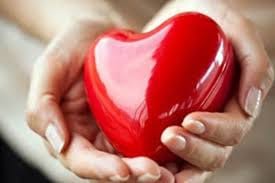 JFS is open and offering services to our Coachella Valley! When you generously donate to JFS, at any level, your gift allows our staff and counselors to continue their essential work.
Please join our "It Begins With Us" campaign online Click Here to Donate! or call us at 760-325-4088 ext. 107.
Your generous contribution provides:
Emergency financial aid for our local seniors and families in crisis.
Telehealth counseling to at-risk children and youth.
Our "Let's Do Lunch" team is now delivering lunches to our local isolated seniors who participate in our program.
All of this is made possible because of YOUR generosity. We couldn't do this without your support, and our entire team appreciates YOU!
Questions? Call or E-mail:
Cheryl Scarlett, Director of Major Gifts and Fundraising
760-325-4088 ext. 107

Volunteers Needed!
JFS volunteers help keep the organization running smoothly, while also serving our clients. JFS has a variety of office and community volunteer areas that will fit perfectly for all ages.
Additionally, our JFS Auxiliary works to support our mission through programs, volunteering, and fundraising for special projects. The Auxiliary is a membership arm of JFS and has its own governance with a nominal yearly membership fee. Our amazing Auxiliary promises camaraderie and fun while helping to raise much-needed funds for JFS programming.

Our Tributes
Make a Difference!
Let JFS help you honor someone special in your life by sending a unique personalized tribute card for just a minimum donation of $18.
Your Minimum Donation of $18 Supports These Worthwhile Services…
Counseling for everyone
Homeless prevention
Financial aid for families and seniors
Lunches for isolated seniors in the Coachella Valley
Emergency services for our local undocumented residents