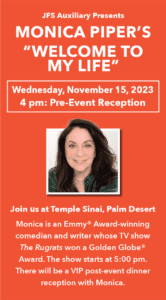 The JFS Auxiliary will host Monica Piper's "Welcome To My Life" at Temple Sinai, Palm Desert.
Monica is an Emmy® Award-winning comedian and writer whose TV show The Rugrats won a Golden Globe® Award. Doors will open at 4:00 PM for a pre-event reception, and the show starts at 5:00 PM. After the show, you will meet Monica at the VIP post-event dinner reception.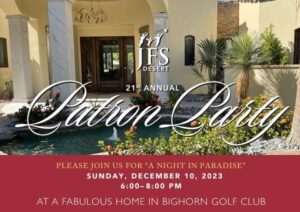 Join us for "A Night In Paradise" for a private cocktail party at a fabulous home in BIGHORN Golf Course. Mix, mingle, and enjoy music.
Our Patrons allow JFS to offer lifesaving programs and services to the most vulnerable residents, families, and individuals of the Coachella Valley, and the Patron Party is a not-to-miss fun event thanking our Patrons for their generous support.
Wednesday, March 13, and  Thursday, March 14, 2024, 6:00 – 8:30 pm – "A Blast from the Past"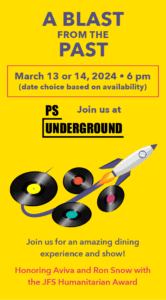 Join us for "A Blast from the Past" at PS Underground in Palm Springs for a fantastic dining experience and show as we honor Aviva and Ron Snow with the 2023-24 JFS Humanitarian of the Year Award.
Tickets will sell out fast, so become at least a Benefactor Patron to secure your reservations for all events.