Join us for the 5th Annual HIV & Aging Conference via ZOOM. This event is free and open to the public. Julie Hirsh, Director of Community Outreach, JFS, and Richard Bass, PALS will be co-presenters. JFS and PALS will be offering two sessions of "Care about Care – Everything You Ever Wanted to Know About Care Options, Costs, And Management But Were Afraid to Ask," at 10:30 a.m. and again at 11:30 a.m.
About this Event
The Aging Positively Reunion Project proudly presents the 5th Annual HIV & Aging Virtual Conference featuring keynote speaker Javier Munoz, long-term HIV survivor and star of the hit Broadway Musical HAMILTON!
Presented by: Desert AIDS Project, PALS, HARP-PS, Eisenhower Health, Let's Kick ASS Palm Springs, Gay Desert Guide, Jewish Family Service of the Desert and The Center. Sponsored by: Gilead, NAPO Pharmaceuticals, Janssen, Walgreens, and Eisenhower Health.

Partner to Feed Seniors for Sukkot
JFS and Jewish Federation of the Desert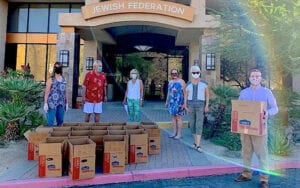 On Thursday, October 9, 2020, volunteers and staff from the Jewish Federation of the Desert and Jewish Family Service of the Desert gathered at the Federation headquarters in Rancho Mirage where boxes of donated food items were loaded into volunteers' vehicles and delivered to local seniors in conjunction with the Sukkot holiday.
As a celebration of the protection of the Jewish people, Sukkot offers an opportunity to support the most vulnerable of our neighbors.
With the help of generous and dedicated donors and volunteers, approximately 50 families received a food box and, with it, proof that someone is thinking of them and that someone cares.
JFS would like to thank our wonderful, dedicated volunteers and our very good friends at the Federation for suggesting and making possible this endeavor.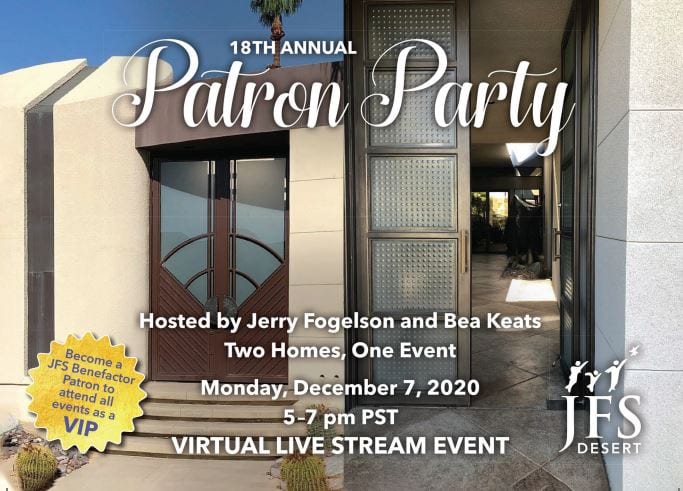 Join us Monday, December 7 for the "18th Annual Patron Party, Virtual Live Stream Event." We will have some exciting and interesting twists and surprises for this year's event.
Our generous Patrons help to provide the essential support allowing JFS to fund our programs offering assistance to those most vulnerable in our Valley.
For More Information:
Cheryl Scarlett, 760-325-4088 ext. 107 or [email protected]

In-Person and Telehealth
Counseling for the Entire Community!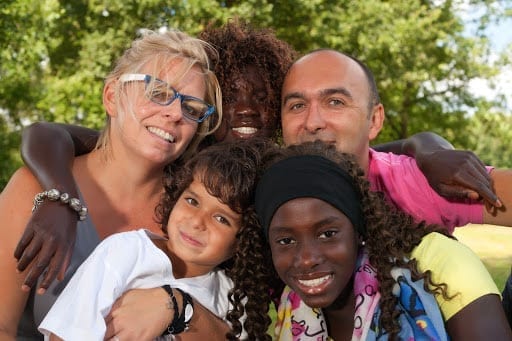 Make an appointment for in-person counseling or if you know someone who needs counseling or financial assistance, please don't hesitate to contact us at [email protected] or 760-325-4088.
Set up counseling for new clients:  760-325-4088 ext. 121   [email protected]
Appointments for existing clients 760-325-4088 ext. 0  [email protected]  
For emergency assistance  760-325-4088 ext. 250    [email protected] 

Case Management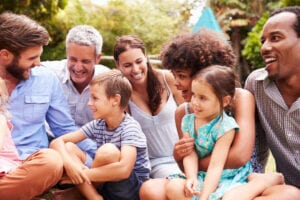 Our experienced case managers assist in exploring resources. They assess clients' eligibility for services and programs and can help facilitate the application process to obtain benefits and support. Our case managers are a resource for the Coachella Valley, providing emergency financial assistance to prevent homelessness. JFS also works with local and county organizations to advocate for the rights of seniors in the Valley. The JFS case management team takes a holistic service approach, collaborating with internal departments to ensure clients' needs are addressed. We are dedicated to making sure that mental health and basic needs issues stay front and center for our Valley citizens.
If you're Jewish, you'll first be offered information about the Jewish Federation of the Desert's Tzedakah Fund, and interested persons will be provided with an application and connected to the Federation directly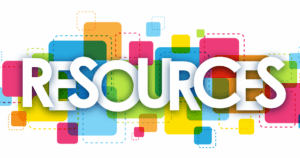 Visit the JFS Resource page on the website, which provides valuable information that can steer you toward the specific help you need whether it is Emergency Housing, Food Assistance, Crisis Hotlines and more!

"It Begins With Us"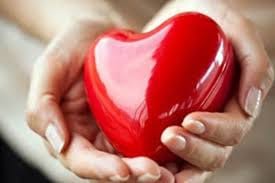 JFS is open and offering services to our Coachella Valley! When you generously donate to JFS, at any level, your gift allows our staff and counselors to continue their essential work.
Please join our "It Begins With Us" campaign online Click Here to Donate! or call us at 760-325-4088 ext. 107.
Your generous contribution provides:
Emergency financial aid for our local seniors and families in crisis.
Telehealth counseling to at-risk children and youth.
Our "Let's Do Lunch" team is now delivering lunches to our local isolated seniors who participate in our program.
All of this is made possible because of YOUR generosity. We couldn't do this without your support, and our entire team appreciates YOU!
Questions? Call or E-mail:
Cheryl Scarlett, Director of Major Gifts and Fundraising
760-325-4088 ext. 107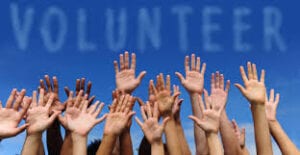 JFS volunteers help keep the organization running smoothly, while also serving our clients. JFS has a variety of office and community volunteer areas that will fit perfectly for all ages.
Additionally, our JFS Auxiliary works to support our mission through programs, volunteering, and fundraising for special projects. The Auxiliary is a membership arm of JFS and has its own governance with a nominal yearly membership fee. Our amazing Auxiliary promises camaraderie and fun while helping to raise much-needed funds for JFS programming.

Our Tributes
Make a Difference!
Let JFS help you honor someone special in your life by sending a unique personalized tribute card for just a minimum donation of $18.
                      Your Minimum Donation of $18 Supports These Worthwhile Services…
Counseling for everyone
Homeless prevention
Financial aid for families and seniors
Lunches for isolated seniors in the Coachella Valley
Emergency services for our local undocumented residents